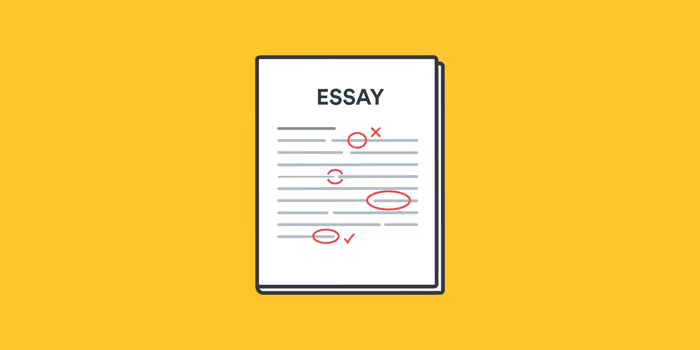 Whether you're writing a research paper, an argumentative essay, or an exploratory essay, there are some key mistakes that you want to avoid. In this post, we discuss common essay writing mistakes and how to avoid them.
1. Failing to stay on topic
One common mistake when writing essays is failing to stay on topic. It's important to stay focused on the main idea and avoid introducing tangential information that does not contribute to the overall argument.
The best way to counteract this is by revising your work throughout the writing process. If you revise your work systematically, you will catch those places in your paper where you might be going off topic.
2. Not properly citing sources
Another common mistake is not properly citing your sources. It's important to give credit to the authors of any sources that you use in your essay, whether you're quoting directly from a source or simply paraphrasing it.
Not citing your sources can lead to plagiarism, which can have serious consequences. To help avoid plagiarism, use an accurate citation generator like BibGuru. A citation app like BibGuru will also save you time.
3. Poor structure and organization
Because academic essays are often written in multiple steps, papers can become disorganized and disconnected. It's essential to have a clear introduction, body, and conclusion in your paper, and to make sure that each paragraph is focused on a specific point that supports your overall argument.
To combat poor structure or organization, try creating an outline and reading your drafts aloud. These methods will help you construct a more organized paper.
4. Quoting too much
Another mistake to avoid is relying too heavily on quotes, without providing your own analysis or interpretation. While it's necessary to support your arguments with evidence, it's also important to demonstrate your own understanding and critical thinking skills.
Choose quotes wisely and be sure to provide adequate analysis. A basic rule of thumb is that your analysis should be at least as long as the quote that you're analyzing.
5. Not supporting claims with evidence
Whenever you make a claim in your essay, you need to support it with proper evidence and analysis. Many writers make the mistake of making claims that are not backed up by research. To avoid this, make a clear outline that connects each claim with accompanying evidence from your sources.
You should always strive to avoid making generalizations that cannot be properly proved. Also, choose the best possible evidence from your research, not simply the first few results from Google or an academic database.
6. Not proofreading
One of the biggest mistakes that academic writers make is not planning enough time to properly proofread their papers. Make time for proofreading your work before you turn it in.
Watch out for spelling or grammar mistakes and make note of places in your essay that may be confusing or overwritten. Aim for a tone that is appropriate for the audience and purpose of your essay.
7. Procrastination
Finally, avoid procrastination. Writing an essay can be a time-consuming process and waiting until the last minute can lead to rushed and poorly written work. Make a plan and set aside dedicated time for researching, outlining, and writing your essay.
The bottom line
By avoiding these common mistakes, you can improve the quality of your essays and achieve better grades. Remember to give yourself enough time to plan, research, and write your essay, and to seek feedback from others to help improve your writing skills.
Frequently Asked Questions about common essay writing mistakes
🪣 What should be avoided in essay writing?

Firstly, you should avoid procrastinating when you're writing an essay. Other things to avoid include plagiarism, poor organization, and not proofreading.
🧮 What makes a bad essay?

A bad essay is poorly organized, full of grammar and spelling mistakes, wordy and digressive, and/or plagiarized.
💜 What are some common essay writing mistakes?

Common essay writing mistakes include: failing to stay on topic, not properly citing sources, poor organization, quoting too much, not providing enough evidence and analysis, not proofreading, and procrastination.
💠 What makes a really good essay?

The best essays have a well-written introduction, a clearly identifiable thesis, strong signposts, a state of the field or literature review, solid body paragraphs that present evidence and analysis, a clear conclusion, and an accurate bibliography.
🐓 What is the hardest part about writing an essay?

Different types of essays may be harder to write than others. However, many writers struggle to come up with a clear and defendable thesis statement. Students also struggle with creating accurate citations and bibliographies.