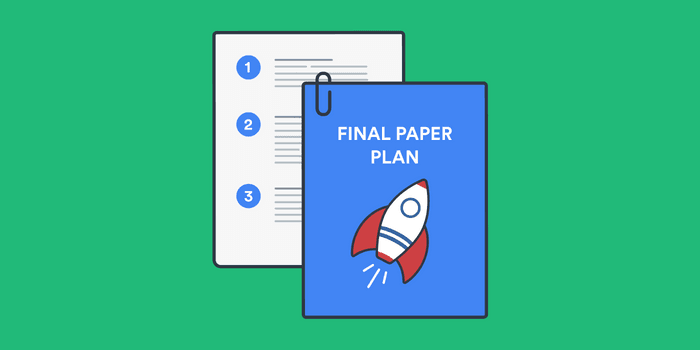 Planning for a final paper can be a stressful process. How much time should you spend on each task? What are the best strategies for completing a final paper on time? This post presents 8 key steps for making a final paper plan.
1. Deconstruct the assignment guidelines
As you begin to plan for your final paper, take a close look at the assignment guidelines. These will likely contain clues for how you should break up your process.
For instance, if you're writing an argumentative essay, you'll likely need an introduction, thesis, state of the field or literature review, body paragraphs with evidence and analysis, a conclusion, and a bibliography. As a result, you can plan your process around writing (and revising) these key components.
2. Make a calendar and stick to it
You've probably been told before that to complete a final paper successfully, you need to make a calendar. However, this is easier said, than done. What exactly should this calendar include?
First, choose what kind of calendar you want to use. Digital? Physical? Or, both? Then mark down the due date for the final paper. From there, consider how much time you have—ideally, you should begin to plan your final paper immediately following midterms.
Using the information that you gleaned from the assignment guidelines, decide how much time you need to complete each component of the paper. It's always good to include some buffer time in case issues or emergencies come up during the research and writing process.
3. Schedule time for writing
Now that you have a rough idea of how much time you have to complete the paper, you should work on scheduling writing time on a daily or weekly basis. For example, you may want to schedule two-hour blocks of writing, three days a week, or hourly blocks each weekday.
If you are planning correctly, you don't necessarily need to write every single day (nor on weekends). By spacing out your writing time appropriately, you can avoid burnout.
4. Work on one component at a time
Treat each part of the paper, or each step of the process, as distinct tasks. Breaking down larger projects into smaller components helps you stay focused. While the overall goal of your final paper plan is to complete the final paper, make smaller, achievable goals and reward yourself for accomplishing them. This will allow you to stay motivated throughout the entire process.
5. Take adequate breaks
In addition to scheduling blocks of writing time, you'll also want to include adequate breaks in your final paper calendar. These should include shorter breaks between individual writing tasks, day- or weekend-long breaks to refresh, and a longer "incubation period" between finishing the paper and revising it. This longer break could last up to a week or more.
6. Plan to revise and proofread
Always include dedicated time for revision and proofreading in your final paper plan. Usually, you need at least a few days to read over your entire paper, make any substantive revisions, and complete a final proofread.
Never skip this step. Your instructor may include peer review or other revision workshops in the course's schedule. Most schools also have a writing center, with tutors who can help you as you revise and proofread your final paper.
7. Give yourself time to create accurate citations
If you haven't been creating citations as you write, you'll want to include time for adding these to your paper. You can use BibGuru's citation generator to create a bibliography, as well as in-text citations that you can copy to your document. Remember to consult your assignment guidelines, or your instructor, to find out what citation style is required.
8. Account for technical issues
Whether you're printing your paper and turning it in during class or submitting it online, you need to account for technical difficulties. Sometimes a printer malfunctions or your school's learning management system is down. Although you can't control these external circumstances, you can build in extra time to ensure that your paper is turned in on time. Never wait until the very last minute to print your paper or submit it online.
Frequently Asked Questions about planning for a final paper
🚪 How do you organize your final paper?

Use the assignment guidelines to decide which components you need to include in your final paper. Most likely, you'll need an introduction, thesis, state of the field or literature review, body paragraphs, and a conclusion.
📆 How do you write a paper plan?

To create a final paper plan, you need to:

consult the assignment guidelines
make a calendar that includes due dates and goals
schedule time for writing and breaks
work on one component at a time
build in time for revision, proofreading, and creating citations
🛎 How do you start a final research paper?

Before you start your research paper, always read over the assignment guidelines so that you have a clear understanding of the expectations. From there, just start writing!
🏷 How do you plan before writing?

Before you sit down to actually write your final paper, you should consult the assignment guidelines and make a calendar that includes due dates, goals, and adequate time for writing and breaks. You can also make a rough outline before you start writing.
🔎 How do you plan for conducting research

If you are required to conduct research in preparation for writing a final paper, you'll want to include this in your calendar. Ideally, you should spend around a week or more finding and evaluating research. You may also want to schedule a research consultation with a librarian, who can help you locate the best sources for your paper.