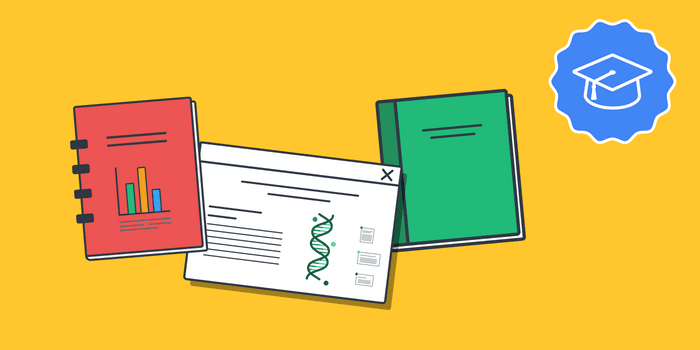 There are many types of sources that you can use for an academic paper. In this blog post, we examine different types of academic and scholarly sources and offer examples of major source types.
What is an academic source?
An academic or scholarly source is one that has undergone peer review. This means that the source has been vetted by experts. Scholarly sources almost always contain citations or references for other academic sources.
Academic source examples
The most common scholarly sources include books, articles, websites, and reports. In this section, we define each of these source types and provide some examples.
Books
Most of the scholarly books that you'll encounter fall into two groups: monographs and edited volumes. Monographs are single-authored books, while edited volumes include chapters written by different authors. Academic books tend to be published by academic publishers like university presses.
Journal articles
Journal articles are the most commonly used secondary sources in academic research. Articles are published in journals, periodicals that are published on a regular basis—often online, but also in print. You'll likely encounter journal articles in academic databases, via Google scholar, or in open-access repositories.
There are two primary types of journal articles: those that present new research findings or theoretical perspectives and those that offer a review of a publication or set of publications. Reviews are excellent for providing you with a summary of a publication's main highlights, but they often don't undergo the same level of peer-review as regular journal articles.
Websites
Determining whether a website is a scholarly source can be tricky, but there are a few hints that you can use to evaluate websites:
Examine the URL. Websites with .edu and .gov URLs are often appropriate for academic research.
Determine if the webpage that you want to use is part of a larger website. Does the website, as a whole, look credible?
Consider the credentials of the author. Is the author a university professor, for instance?
Try to figure out the purpose of the site. Is it simply providing information about a topic or is it trying to sell you something?
If you're ever in doubt about the credibility of a website, be sure to ask your instructor, or a librarian, to help you.
Reports
Government reports, business reports from academic databases, and scientific reports are generally considered to be academic sources. These reports often provide data and statistics on a specific topic or subject and can be used as evidence in an academic paper.
Newspaper articles
Many of the major newspapers use a rigorous peer-review and fact checking process to ensure that articles are accurate and reliable. However, some parts of a newspaper, like opinion pieces and obituaries, are not held to the same standards as feature articles. If you find a newspaper article that you'd like to use as a source, be sure to double-check its origin and the credentials of the writer.
How do you identify an academic source?
There are a few key ways that you can identify an academic or scholarly source:
Does the source have citations, references, and/or a bibliography?
Who authored the source? What are the author's credentials? Do they have an academic or university affiliation?
Where did you find the source? In an academic database or through a simple Google search?
When was the source published? Does the information in it seem current?
What is the tone and purpose of the source? Is it meant to reveal new research or provide information on a research topic? Or, is it trying to sell you something?
Importantly, sources that you find in academic databases (accessed through your school's library) and those published by university presses are almost always academic or scholarly sources.
How do you cite an academic source?
The format of your citation for an academic source will vary depending on the source type and citation style. You can use BibGuru's citation generator to cite sources in APA, MLA, or any other citation style.
Frequently Asked Questions about types of academic sources
🧠 What are the different types of academic sources?

The most common scholarly sources include books, journal articles, websites, and reports.
🔍 How do you identify an academic source?

To determine if a source is academic, scholarly, and/or credible consider its currency (when was it published?), relevancy (does it provide relevant information?), authority (who wrote it? what are their credentials?), accuracy (does the information seem objective?), and purpose (is the source trying to simply provide information or sell you something?).
⚒ How do you choose an academic source?

Choose sources that are peer-reviewed. Many databases allow you to filter results so that you only see peer-reviewed sources.
🎩 What is not an academic source?

Personal websites, blogs, and many online magazines are not academic sources.
✅ What are examples of reliable sources?

Reliable sources are ones that are peer-reviewed. Scholarly books, articles, and websites are all examples of reliable sources. If you're ever unsure if a source is reliable, ask your instructor or a librarian.