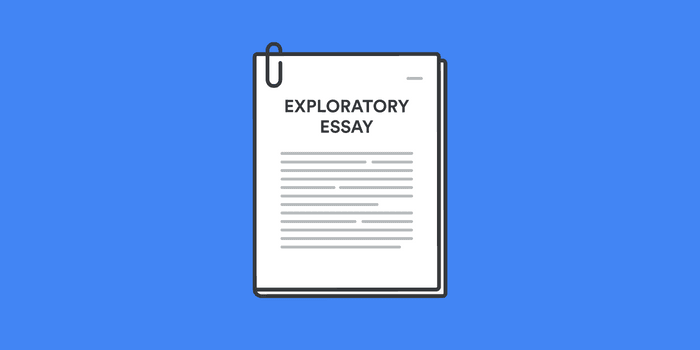 Unlike other types of essays, the exploratory essay does not present a specific argument or support a claim with evidence. Instead, an exploratory essay allows a writer to "explore" a topic and consider tentative conclusions about it. This article covers what you need to know to write a successful exploratory essay.
What is an exploratory essay?
An exploratory essay considers a topic or problem and explores possible solutions. This type of paper also sometimes includes background about how you have approached the topic, as well as information about your research process.
Whereas other types of essays take a concrete stance on an issue and offer extensive support for that stance, the exploratory essay covers how you arrived at an idea and what research materials and methods you used to explore it.
For example, an argumentative essay on expanding public transportation might argue that increasing public transit options improves citizens' quality of life. However, an exploratory essay would provide context for the issue and discuss what data and research you gathered to consider the problem.
What to include in an exploratory essay
Importantly, an exploratory essay does not reach a specific conclusion about a topic. Rather, it explores multiple conclusions and possibilities. So, for the above example, your exploratory essay might include several viewpoints about public transit, including research from urban planners, transportation advocates, and other experts.
Finally, an exploratory essay will include some reflection on your own research and writing process. You might be asked to draw some conclusions about how you could tackle your topic in an argumentative essay or you might reflect on what sources or pieces of evidence were most helpful as you were exploring the topic.
Ultimately, the primary goal of an exploratory essay is to make an inquiry about a topic or problem, investigate the context, and address possible solutions.
What to expect in an exploratory essay assignment
This section discusses what you can expect in an exploratory essay assignment, in terms of length, style, and sources. Instructors may also provide you with an exploratory essay example or an assignment rubric to help you determine if your essay meets the appropriate guidelines.
Length
The expected length of an exploratory essay varies depending on the topic, course subject, and course level. For instance, an exploratory essay assigned in an upper-level sociology course will likely be longer than a similar assignment in an introductory course.
Like other essay types, exploratory essays typically include at least five paragraphs, but most range from a few pages to the length of a full research paper.
Style
While exploratory essays will generally follow academic style guidelines, they differ from other essays because they tend to utilize a more reflective, personal tone. This doesn't mean that you can cast off academic style rules, however.
Rather, think of an exploratory essay as a venue for presenting your topic and methods to a sympathetic and intelligent audience of fellow researchers. Most importantly, make sure that your writing is clear, correct, and concise.
Sources
As an exploration of your approach to a topic, an exploratory essay will necessarily incorporate research material. As a result, you should expect to include a bibliography or references page with your essay. This page will list both the sources that you cite in your essay, as well as any sources that you may have consulted during your research process.
The citation style of your essay's bibliography will vary based on the subject of the course. For example, an exploratory essay for a sociology class will probably adhere to APA style, while an essay in a history class might use Chicago style.
Exploratory essay outline and format
An exploratory essay utilizes the same basic structure that you'll find in other essays. It includes an introduction, body paragraphs, and a conclusion. The introduction sets up the context for your topic, addresses why that topic is worthy of study, and states your primary research question(s).
The body paragraphs cover the research that you've conducted and often include overviews of the sources that you've consulted. The conclusion returns to your research question and considers possible solutions.
Introduction
The introduction of an exploratory essay functions as an overview. In this section, you should provide context for your topic, explain why the topic is important, and state your research question:
Context includes general information about the topic. This part of the introduction may also outline, or signpost, what the rest of the paper will cover.
Topic importance helps readers "buy in" to your research. A few sentences that address the question, "so what?" will enable you to situate your research within an ongoing debate.
The last part of of your introduction should clearly state your research question. It's okay to have more than one, depending on the assignment.
If you were writing an exploratory essay on public transportation, you might start by briefly introducing the recent history of public transit debates. Next, you could explain that public transportation research is important because it has a concrete impact on our daily lives. Finally, you might end your introduction by articulating your primary research questions.
Example
While some individuals may choose not to utilize public transportation, decisions to expand or alter public transit systems affect the lives of all. As a result of my preliminary research, I became interested in exploring whether public transportation systems improve citizens' quality of life. In particular, does public transit only improve conditions for those who regularly use these systems? Or, do improvements in public transportation positively impact the quality of life for all individuals within a given city or region? The remainder of this essay explores the research around these questions and considers some possible conclusions.
Body paragraphs
The body paragraphs of an exploratory essay discuss the research process that you used to explore your topic. This section highlights the sources that you found most useful and explains why they are important to the debate.
You might also use the body paragraphs to address how individual resources changed your thinking about your topic. Most exploratory essays will have several body paragraphs.
Example
One source that was especially useful to my research was a 2016 study by Richard J. Lee and Ipek N. Sener that considers the intersections between transportation planning and quality of life. They argue that, while planners have consistently addressed physical health and well-being in transportation plans, they have not necessarily factored in how mental and social health contributes to quality of life. Put differently, transportation planning has traditionally utilized a limited definition of quality of life and this has necessarily impacted data on the relationship between public transit and quality of life. This resource helped me to broaden my conception of quality of life to include all aspects of human health. It also enabled me to better understand the stakeholders involved in transportation decisions.
Conclusion
Your conclusion should return to the research question stated in your introduction. What are some possible solutions to your questions, based on the sources that you highlighted in your essay? While you shouldn't include new information in your conclusion, you can discuss additional questions that arose as you were conducting your research.
Example
In my introduction, I asked whether public transit improves quality of life for all, not simply for users of public transportation. My research demonstrates that there are strong connections between public transportation and quality of life, but that researchers differ as to how quality of life is defined. Many conclude that public transit improves citizens' lives, but it is still not clear how public transit decisions affect non-users, since few studies have focused on this distinct group. As a result, I believe that more research is needed to answer the research questions that I posed above.
Frequently Asked Questions about exploratory essays
🏒 How do you start an exploratory essay?

You should begin an exploratory essay by introducing the context for your topic, explaining the topic's importance, and outlining your original research question.
🏆 What does an exploratory essay look like?

Like other types of essays, the exploratory essay has three primary parts:

Introduction
Body
Conclusion
🎉 Does an exploratory essay have a thesis?

Although an exploratory essay does not make a specific argument, your research question technically serves as your thesis.
👍 Can you use first person in an exploratory essay?

Yes, you can use "I" throughout your paper. An exploratory essay is meant to explore your own research process, so a first-person perspective is appropriate.
🎁 How do you end an exploratory essay?

You should end your exploratory essay with a succinct conclusion that returns to your research question and considers possible answers. You can also end by highlighting further questions you may have about your research.