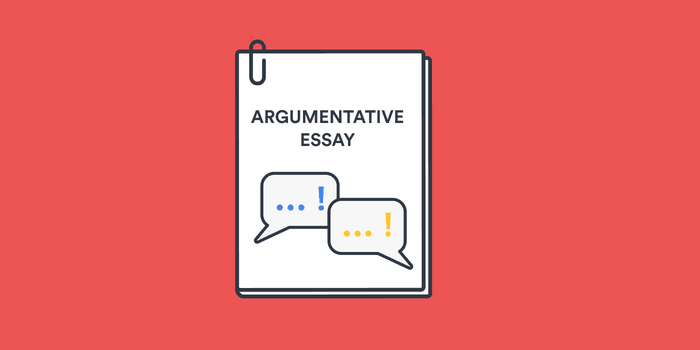 The argumentative essay is a staple in university courses, and writing this style of essay is a key skill for students across multiple disciplines. Here's what you need to know to write an effective and compelling argumentative essay.
What is an argumentative essay?
An argumentative essay takes a stance on an issue and presents an argument to defend that stance with the intent of persuading the reader to agree. It generally requires extensive research into a topic so that you have a deep grasp of its subtleties and nuances, are able to take a position on the issue, and can make a detailed and logical case for one side or the other.
It's not enough to merely have an opinion on an issue—you have to present points to justify your opinion, often using data and other supporting evidence.
When you are assigned an argumentative essay, you will typically be asked to take a position, usually in response to a question, and mount an argument for it. The question can be two-sided or open-ended, as in the examples provided below.
Examples of argumentative essay prompts:
Two-sided Question
Should completing a certain number of volunteer hours be a requirement to graduate from high school? Support your argument with evidence.
Open-ended Question
What is the most significant impact that social media has had on this generation of young people?
Once again, it's important to remember that you're not just conveying facts or information in an argumentative essay. In the course of researching your topic, you should develop a stance on the issue. Your essay will then express that stance and attempt to persuade the reader of its legitimacy and correctness through discussion, assessment, and evaluation.
The main types of argumentative essays
Although you are advancing a particular viewpoint, your argumentative essay must flow from a position of objectivity. Your argument should evolve thoughtfully and rationally from evidence and logic rather than emotion.
There are two main models that provide a good starting point for crafting your essay: the Toulmin model and the Rogerian model.
The Toulmin Model
This model is commonly used in academic essays. It mounts an argument through the following four steps:
Make a claim.
Present the evidence, or grounds, for the claim.
Explain how the grounds support the claim.
Address potential objections to the claim, demonstrating that you've given thought to the opposing side and identified its limitations and deficiencies.
As an example of how to put the Toulmin model into practice, here's how you might structure an argument about the impact of devoting public funding to building low-income housing.
Make your claim that low-income housing effectively solves several social issues that drain a city's resources, providing a significant return on investment.
Cite data that shows how an increase in low-income housing is related to a reduction in crime rates, homelessness, etc.
Explain how this data proves the beneficial impact of funding low-income housing.
Preemptively counter objections to your claim and use data to demonstrate whether these objections are valid or not.
The Rogerian Model
This model is also frequently used within academia, and it also builds an argument using four steps, although in a slightly different fashion:
Acknowledge the merits of the opposing position and what might compel people to agree with it.
Draw attention to the problems with this position.
Lay out your own position and identify how it resolves those problems.
Proffer some middle ground between the two viewpoints and make the case that proponents of the opposing position might benefit from adopting at least some elements of your view.
The persuasiveness of this model owes to the fact that it offers a balanced view of the issue and attempts to find a compromise. For this reason, it works especially well for topics that are polarizing and where it's important to demonstrate that you're arguing in good faith.
To illustrate, here's how you could argue that smartphones should be permitted in classrooms.
Concede that smartphones can be a distraction for students.
Argue that what teachers view as disruptions are actually opportunities for learning.
Offer the view that smartphones, and students' interest in them, can be harnessed as teaching tools.
Suggest teaching activities that involve smartphones as a potential resource for teachers who are not convinced of their value.
It's not essential to adhere strictly to one model or the other—you can borrow elements from both models to structure your essay. However, no matter which model of argumentation you choose, your essay will need to have an outline that effectively presents and develops your position.
How to outline and write an argumentative essay
A clear and straightforward structure works best for argumentative essays since you want to make it easy for your reader to understand your position and follow your arguments. The traditional essay outline comprises an introductory paragraph that announces your thesis statement, body paragraphs that unfold your argument point by point, and a concluding paragraph that summarizes your thesis and supporting points.
Introductory paragraph
This paragraph provides an overview of your topic and any background information that your readers will need in order to understand the context and your position. It generally concludes with an explicit statement of your position on the topic, which is known as your thesis statement.
Example
Over the last decade, smartphones have transformed nearly every aspect of our lives, socially, culturally, and personally. They are now incorporated into almost every facet of daily life, and this includes making their way into classrooms. There are many educators who view smartphones with suspicion and see them as a threat to the sanctity of the classroom. Although there are reasons to regard smartphones with caution, there are ways to use them responsibly to teach and educate the next generation of young minds. Indeed, the value they hold as teaching tools is nearly unlimited: as a way to teach digital literacy, to reach students through a medium that is familiar and fun for them, and to provide a nimble and adaptable learning environment.
Body paragraphs
Most argumentative essays have at least three body paragraphs that lay out the supporting points in favor of your argument. Each paragraph should open with a topic sentence that presents a separate point that is then fleshed out and backed up by research, facts, figures, data, and other evidence. Remember that your aim in writing an argumentative essay is to convince or persuade your reader, and your body paragraphs are where you present your most compelling pieces of information in order to do just that.
The body of your essay is also where you should address any opposing arguments and make your case against them, either disproving them or stating the reasons why you disagree. Responding to potential rebuttals strengthens your argument and builds your credibility with your readers.
Example
A frequent objection that teachers have to smartphones in the classroom is that students use them to socialize when they should be learning. This view overlooks the fact that students are using smartphones to connect with each other and this is a valuable skill that should be encouraged, not discouraged, in the classroom. A 2014 study demonstrated the benefits of providing students with individual smartphones. Sanctioned smartphone use in the classroom proved to be of particular importance in improving educational outcomes for low-income and at-risk students. What's more, learning apps have been developed specifically to take advantage of the potential of smartphones to reach learners of various levels and backgrounds, and many offer the ability to customize the method and delivery of lessons to individual learner preferences. This shows that the untapped potential of smartphones is huge, and many teachers would do well to consider incorporating them into their classrooms.
Conclusion
Your concluding paragraph wraps up your essay by restating your thesis and recapping the arguments you presented in your body paragraphs. No new information should be introduced in your conclusion, however, you may consider shifting the lens of your argument to make a comment on how this issue affects the world at large or you personally, always keeping in mind that objectivity and relevance are your guiding principles.
Example
Smartphones have a growing place in the world of education, and despite the presence of legitimate concerns about their use, their value as teaching tools has been clearly established. With more and more of our lives going digital and with the growing emphasis on offering distance learning as an option, educators with an eye to the future won't wait to embrace smartphones and find ways to use them to their fullest effect. As much time and space as we could devote to weighing the pros and cons of smartphones, the fact is that they are not going to disappear from our lives, and our best bet is to develop their, and our students', potential.
Frequently Asked Questions about argumentative essays
🤹 How do you start an argumentative essay?

Your argumentative essay starts with an introductory paragraph. This paragraph provides an overview of your topic and any background information that your readers will need in order to understand the context and your position.
🤟 What are the 3 parts of an argumentative essay?

Like any traditional essay, the argumentative essay consists of three parts:

Introduction
Body
Conclusion
🍔 What should you avoid when writing an argumentative essay?

There are do's and don'ts in argumentative writing. This article summarizes some of them well - you should, for example, avoid coming to an argument based on feelings, without any evidence. Everything you say needs to be backed up by evidence, unless you are the renowned expert in the field.
🐕 Can you start an argumentative essay with a question?

Yes, you can start your argumentative essay with a question or with a thesis statement. Or you can do both - ask a question and then immediately answer it with a statement.
⌛ Can you end an argumentative essay with a question?

There are contrasting views on that. In some situations it can make sense to end your argumentative essay with a question - for example, when you want to create room for further discussions or want the reader to leave thinking about the question.