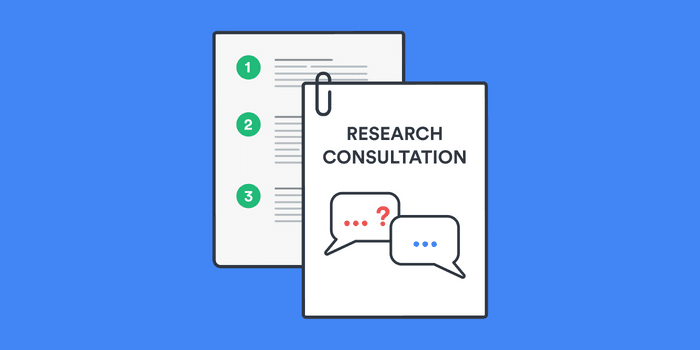 Whether you're stuck in your research or need help getting started, research consultations are excellent venues for asking specific questions and gathering expert advice. This post discusses what a research consultation is and offers tips for how to prepare for one.
What is a research consultation?
Research consultations are meetings with librarians that provide students with specific research assistance. In these meetings, librarians help students generate topic ideas, navigate academic databases, and find different types of academic sources.
Research consultations are excellent opportunities to gather expert advice on how to find and cite research. Ultimately, students who utilize research consultations produce better work in much less time.
How to prepare for a research consultation
1. Identify your subject librarian
Before you can schedule your research consultation, you need to identify which subject librarian could offer you the best advice. Academic librarians work with specific departments and have expertise across a range of fields.
For instance, if you are writing a paper for an engineering class, you'll want to look for the contact information for the science or engineering librarian. Depending on the size of your institution or library, there may be only one librarian who works with students and researchers in the sciences. Or, there may be librarians for each of the major disciplines within the sciences (i.e. engineering, chemistry, biology, etc.).
Some library websites may have a form that you need to fill out to request a research consultation with a librarian. You can also usually reach out to subject librarians directly via email. Your library's website will likely have contact information for librarians by subject or discipline.
2. Schedule your consultation
Once you know which librarian to contact, you'll want to schedule your consultation. Ideally, you'll want to give yourself time to prepare for the consultation, although sometimes this isn't possible.
If you're experiencing a research emergency, consultations can definitely help you solve whatever issue you're having. However, it's always best to consider scheduling a consultation before your research problem escalates.
It's important to keep in mind that your subject librarian may not have an opening if you wait until the last minute to schedule your research consultation.
3. Prepare for the consultation
Most librarians will ask you for assignment details, rubrics, or a copy of the course syllabus—any information that can provide them with context about the research assignment.
In some cases, you may be scheduling a consultation with a librarian who presented in your class or who may be teaching the class. While less contextual information may be needed for those circumstances, it's still important to provide the librarian with any information that may be useful.
You'll want to come to your meeting prepared to take notes. You can also bring a laptop or tablet with a copy of your paper or with research notes.
If you are meeting with a librarian in order to get started on your research, the librarian may walk you through some tips and strategies that can help you find sources. For instance, the librarian may show you how to access, and use, a specific database related to your research topic.
4. Always ask questions
The research consultation is a space in which asking questions is expected. In fact, many librarians encourage students to attend consultations with a list of questions.
Never be afraid to ask a librarian for clarification or for more details. Subject librarians are experts in their respective research fields and can share a lot of helpful information. If a question comes up that the librarian can't answer, s/he will help you figure it out.
5. Follow-up with the librarian as needed
If you need additional assistance beyond a single consultation, or if you have further questions as you continue your research, be sure to follow up with the librarian.
There's generally no limit to how many research consultations you can schedule. If you're unable to find another time to meet, take advantage of email and also consider asking a question through your library's online reference chat.
6. Don't forget correct citations
The librarian you're working with will likely help you find sources that you can use for your paper or assignment. As always, you'll want to be sure that those sources are cited correctly.
You can use BibGuru's citation generator to create citations and references that you can copy directly to your document. Remember to double-check your assignment guidelines, or consult your instructor, to find out what citation style is required.
Research consultation checklist
You can use the following checklist to help you prepare for your research consultation:
Research consultation checklist
🔲 Make an appointment.
🔲 Prepare questions.
🔲 Bring syllabus, assignment guidelines, or other material.
🔲 Take good notes.
🔲 Follow-up with the librarian, as needed.
Frequently Asked Questions about research consultations
✒️ What do you do in a research consultation?

A research consultation is a meeting with a librarian that focuses on narrowing your research topic, finding sources, creating citations, or other research-related topics.
⚛️ How can a librarian help your research?

Academic librarians are typically experts in a specific research field. As result, they can help you identify a research topic, conduct research, and cite your sources. They help students find and assess credible sources for all kinds of assignments.
🥁 Can you start your research by talking with a librarian?

Absolutely! Librarians are experts at helping students and researchers choose topics and conduct preliminary research. Because they know the research landscape so well, they can help you efficiently identify the best methods and resources for getting started.
🗼 What should I ask a librarian about research?

To begin with, you might ask a librarian to help you choose or narrow a topic or how best to find and access sources for your paper or assignment.
⛺️ What does a research librarian do?

Academic librarians are typically subject specialists that have expertise in one—but often more—research areas. Most college and university libraries employ librarians who can help students of all majors with their research. You can consult your library's website for more details about subject librarians.