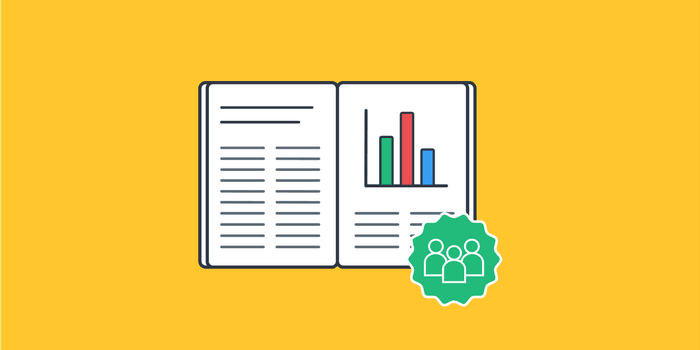 You may have heard your instructor say that you're required to use "peer-reviewed" sources for your research paper—but what, exactly, is peer review? In this blog post, we define peer review and cover tips for finding and evaluating peer-reviewed research.
What is peer review?
Peer review is the process by which experts evaluate works to ensure that they are credible, authoritative, and original. The practice also guarantees that important subject-specific standards are met.
Your instructor typically requires you to support your argument with peer-reviewed sources because the information in those sources has been vetted by experts. This guarantees that a source is reliable.
How to find peer-reviewed sources
The best way to find peer-reviewed sources is to use your school's library website. There, you can search major databases, as well as the library catalog, for peer-reviewed journals, articles, and books. If you're unsure about the differences between databases and journals, take a look at our writing and research guide.
Many databases and academic search engines, like Google Scholar, have filters to help you narrow your search results to only peer-reviewed works. Schedule a research consultation with a librarian to learn how to filter research based on your topic.
How to evaluate peer-reviewed sources
There are two main methods that you can use to evaluate if a source is reliable:
CRAAP (Currency, Relevancy, Authority, Accuracy, Purpose)
Six journalistic question words (Who? What? Where? When? Why? How?)
Let's take a look at these two techniques in more depth.
CRAAP method
When you find a source that you'd like to use for your paper, take a few moments to evaluate its currency, relevance, authority, accuracy, and purpose.
To establish a source's currency and relevance, pay attention to when it was published. Articles in the sciences that were published 20 years ago are likely not current or relevant.
Authority refers to both the authors' credentials and the place where the resource was found. Peer-reviewed works will typically list an author's affiliation or job title. If you found the source in one of the library's databases, then it's most likely authoritative. If not, consider details like the URL (does it contain .org, .edu, .gov, etc?).
To investigate a text's accuracy, review its content. Does the source have references? Is the tone of the work objective or does it imply some kind of bias? Are the work's claims backed up by evidence? If it's been peer-reviewed or refereed, then the accuracy has already been vetted by experts.
Finally, consider the purpose of the work. Is the purpose to sell you something? To inform or persuade? Is it an opinion piece?
Six question words
This second method is similar to CRAAP, since the point of the approach is to determine whether a source is reliable. However, in this case, you use the six journalistic question words to evaluate a work's credibility.
Asking "who?" is the same as determining a source's authority. Who is involved in its publication? Who is the author? What are the author's credentials?
The questions, "what?" and "why?" prompt you to consider a work's accuracy and purpose. What are the contents? What sources are cited? What is the purpose of the text? Why was it published?
Then, you can think about "where" you found the source. Did you find it in one of your library's databases or somewhere else online?
The question, "when?" refers to the publication date. Asking this questions helps you to establish whether a text is current and relevant.
Finally, ask yourself "how" a work came to be published. Did it undergo peer review? How do you know?
Ultimately, whichever method you choose, it's essential to consider whether a source has been peer-reviewed and, if not, whether it's credible.
How to cite peer-reviewed sources
Once you've determined that your sources are peer-reviewed and reliable, you'll need to make sure that you cite them correctly.
Use the BibGuru citation generator to instantly create accurate citations for peer-reviewed articles, books, and websites. As always, be sure to ask your instructor, or a librarian, which style you should use for the assignment.
Frequently Asked Questions about what is peer review
🎹 What exactly is peer review?

Peer review is the process by which experts evaluate works to ensure that they are credible, authoritative, original, and that they meet disciplinary standards.
🥁 What is the main purpose of peer review?

The main purpose of peer review is the ensure that a work meets certain scholarly standards. The peer-review process helps to maintain the research integrity of various fields and disciplines.
🎺 What is the first step in the peer-review process?

The peer-review process begins with submission. When a researcher or scholar wishes to publish a paper, that text is submitted to the relevant journal or publisher for peer-review.
🎸 Are books peer-reviewed?

Most published books undergo some kind of peer-review process; however, not every book is peer-reviewed. Ask your instructor or a librarian if you are unsure whether a book is peer-reviewed.
🎷 Are scholarly and peer-reviewed the same?

No. While most peer-reviewed journals can be considered scholarly, not all scholarly journals or articles are peer-reviewed.