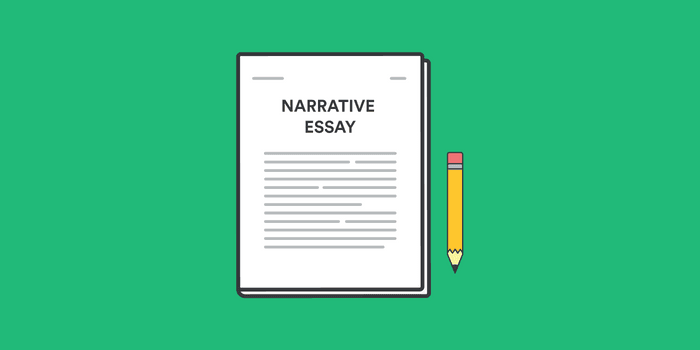 A narrative essay is an opportunity to flex your creative muscles and craft a compelling story. This type of essay is often a welcome departure for students who are used to writing persuasive or expository essays.
Let's explore the basics of the narrative essay, when you might be asked to write one, and how you can outline, format, and write your own narrative essay.
What is a narrative essay?
Similar to a descriptive essay or a reflective essay, a narrative essay asks you not to advance an argument or provide evidence to support an opinion, but rather to share an experience. This experience can be a real, personal, and lived experience from your own life (for example, telling the story of your first big success) or it can be an imagined experience (for example, telling the story of how your life would have been if you had been born into different circumstances).
While a narrative essay doesn't ask you to present a thesis statement, supporting paragraphs, and a conclusion, it does still have to be well-structured and clearly organized so that the reader can follow your story. A good narrative essay also builds up to a meaningful statement that goes beyond a mere listing of events and details.
When you might be asked to write a narrative essay
Although less common than argumentative essays or expository essays, narrative essays are a common one in high school and college composition classes. Because they are similar in spirit and structure to admissions essays, descriptive essays, and personal statements, which are frequently requested as part of the application process to an institution of higher education, many of the same writing techniques used to craft those kinds of essays can also be applied to the narrative essay.
How to choose a topic for a narrative essay
The topics for narrative essays are extremely flexible, spanning pretty much any aspect of human existence. When you are asked to write a narrative essay, a topic may be assigned to you or you may have the freedom to choose your own.
With an assigned topic, the prompt will fall into one of two categories: specific or open-ended.
Examples of specific prompts:
Write about the last vacation you took.
Write about your final year of middle school.
Examples of open-ended prompts:
Write about a time when you felt all hope was lost.
Write about a brief, seemingly insignificant event that ended up having a big impact on your life.
It bears repeating that a narrative essay is about telling a story, and all good stories are centered on a conflict of some sort. When choosing your topic, take care to select one that isn't just a mundane event where everything worked out as intended. Experiences with unexpected obstacles, twists, and turns make for much more compelling essays and reveal more about your character and your views on life.
When writing a narrative essay specifically as part of an admissions application, remember that the people reviewing your essay will be looking at it to gain a sense not just of your writing ability but who you are as a person. In these cases, it's wise to choose a topic and experience from your life that demonstrates the qualities the prompt is looking for, such as resilience, perseverance, the ability to stay calm under pressure, etc.
It's also important to remember that your choice of topic is just a starting point. Many students find that they arrive at new ideas and insights as they write their first draft, so the final form of your essay may have a distinctly different focus than the one you started with.
How to outline and format a narrative essay
Even though you're not advancing an argument or proving a point of view, a narrative essay still needs to have a coherent structure. Your reader has to be able to follow you as you tell the story and to glean the larger point you're making.
Much of what you'll be evaluated on is your handling of the topic and how you structure it. Even if you're the type of writer who likes to "go with the flow" and see where the writing takes you, you may still want to sketch out a loose outline to give yourself a few guideposts so you can tell your story in a lucid, compelling way.
In outlining your narrative essay, the most basic markers to identify are where your story will start, end, and how many key moments it will have in between. You should also consider pace and tone.
In the vast majority of cases, a narrative essay should be written in the first-person perspective, which is often a refreshing change for students who are used to using an objective, third-person point of view.
During the outlining and formatting stage, it's also a good idea to look for places to add rhetorical flourishes, such as metaphor and analogy, that enhance the expressiveness and originality of your essay. To get your creative wheels turning, try considering how your story compares to archetypes and famous historical and literary figures both past and present. Weave these comparisons into your essay to improve the quality of your writing and connect your personal experience to a larger context.
How to write a narrative essay
Writing a narrative essay can sometimes be a challenge for students who are used to writing in a formal, objective style. To give you a better sense of how you can write a narrative essay, here is a short example of a narrative essay in response to the prompt "Write about an experience that challenged your view of yourself."
Narrative essay example
Example
Even as a child, I always had what people might call a reserved personality. It was sometimes framed as a positive ("Sarah is a good listener") and at other times it was put in less-than-admiring terms ("Sarah is withdrawn and not talkative"). It was the latter kind of comments that caused me to see my introverted nature as a drawback and as something I should work to eliminate. That is, until I joined my high school's student council.
The first paragraph, or introduction, sets up the context, establishing the situation and introducing the meaningful event upon which the essay will turn.
Example
The other four students making up the council were very outspoken and enthusiastic. I enjoyed being around them, and I often agreed with their ideas. However, when it came to overhauling our school's recycling plan, we butted heads. When I spoke up and offered a different point of view, one of my fellow student council members launched into a speech, advocating for her point of view. As her voice filled the room, I couldn't get a word in edgewise. I wondered if I should try to match her tone, volume, and assertiveness as a way to be heard. But I just couldn't do it—it's not my way, and it never has been. For a fleeting moment, I felt defeated. But then, something in me shifted.
In this paragraph, the writer goes into greater depth about how their existing thinking brought them to this point.
Example
I reminded myself that my view was valid and deserved to be heard. So I waited. I let my fellow council member speak her piece and when she was finished, I deliberately waited a few moments before calmly stating my case. I chose my words well, and I spoke them succinctly. Just because I'm not a big talker doesn't mean I'm not a big thinker. I thought of the quotation "still waters run deep" and I tried to embody that. The effect on the room was palpable. People listened. And I hadn't had to shout my point to be heard.
This paragraph demonstrates the turn in the story, the moment where everything changed. The use of the quotation "still waters run deep" imbues the story with a dash of poetry and emotion.
Example
We eventually reached a compromise on the matter and concluded the student council meeting. Our council supervisor came to me afterward and said: "You handled that so well, with such grace and poise. I was very impressed." Her words in that moment changed me. I realized, a bombastic nature isn't necessarily a powerful one. There is power in quiet, too. This experience taught me to view my reserved personality not as a character flaw, but as a strength.
The final paragraph, or conclusion, ties off the story and closes with a statement about the significance of this event and how it ended up changing the writer in a meaningful way.
Key takeaways about narrative essays
Narrative essays are a chance to get creative and personal, which students may find to be a challenge or a welcome change. The key is to focus on telling a good story and telling it well. From there, the sky's the limit, so take advantage of this freedom and flexibility!
Frequently Asked Questions about narrative essays
🏒 How do you write a narrative essay?

A narrative essay, like any essay, has three parts: an introduction, a body and a conclusion. Structuring and outlining your essay before you start writing will help you write a clear story your readers can follow. In the vast majority of cases, a narrative essay should be written in the first-person perspective.
🍉 How do you start a narrative essay introduction?

The first paragraph of your essay, or introduction, sets up the context, establishing the situation and introducing the meaningful event upon which the essay will turn.
✨ What makes a good narrative?

A good narrative consists of strong characters, a good structure and details, and an emotional and captivating plot. You can read all about what makes a good story in this article.
👍 What are the 4 types of essays?

There are many different types of essays that you can write. The 4 main types of essays would be the argumentative essay, narrative essay, exploratory essay, and expository essay. Different types of assignments or essay prompts require different writing and essay styles. Make sure to know which one to pick.
🎁 How many paragraphs are in a narrative essay?

A narrative essay, just like most essays, consists of three main parts: an introduction, a body, and a conclusion. It will most likely consist of five paragraphs, or more, depending on the length of your essay. Make sure to check in with your professor about the requirements for your essay.