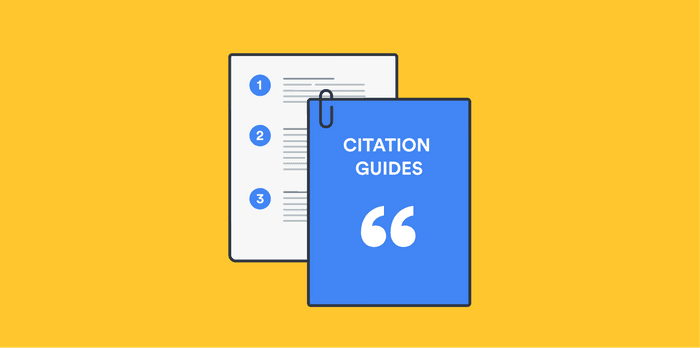 Are you confused about citation or certain aspects of the research? BibGuru has guides that can answer your questions about citation styles, formatting, and research.
Citation guides
BibGuru features in-depth citation guides that offer strategies for creating the most complete and accurate citations.
You can also visit our comprehensive guides for details on how to cite a range of sources in major styles like APA, MLA, Chicago, and more.
APA guides
In addition the ultimate guide to citing in APA, BibGuru also has a detailed APA guide that focuses on all aspects APA style—from in-text citations to title page formatting to reference lists.
MLA guides
You can learn the essential elements of MLA style through our ultimate guide to citing in MLA. For a more in-depth look at MLA Style, with links to other resources, visit our MLA citation guide.
Chicago guides
Chicago style utilizes two types of citation systems: notes and bibliography and author-date. Our guide on Chicago style goes into detail about these systems and offers examples of each.
AMA guides
Health science fields, particularly medicine, use AMA style for creating citations and reference lists. BibGuru's AMA citation guide provides information on how to cite in AMA, along with examples of in-text and bibliographic citations.
Harvard guides
Harvard is one of the most frequently used citation styles in the world. Our ultimate guide to citing in Harvard can answer your questions about fundamental aspects of Harvard style. You can learn more about Harvard style by consulting our Harvard citation guide.
Citation styles by discipline
If you aren't sure what type of citation style to use, take a look at our guide to citation styles by discipline to help you figure out the best citation style for your specific project.
Writing and research guides
Citation is only one step in the research process. Our eBook on how to write an essay, along with our comprehensive guide on writing and research, offer tips on all aspects of the research process—from idea to submission.
Our guide on how to find, evaluate, and cite scholarly sources offers guidance on working with sources. We also have specific guides on avoiding plagiarism, class presentations, how to write a thesis, and research topic ideas.
Citation teaching resources
Educators can find citation-related worksheets, quizzes, presentations, and infographics on the BibGuru Educator Hub. Additional resources on teaching citation are featured in our citation teaching resources guide.
Frequently Asked Questions about BibGuru citation and research guides
📕 What is BibGuru?

BibGuru is a free (and ad-free) citation generator. With BibGuru, you can:

Search for website, article, and book sources and add them to a bibliography with one click.
Add citations for more than 60 other source types.
Create bibliographies in APA, MLA, and thousands of other citation styles.
Export your citations as a Word file or copy them into Google Docs.
Sign-up to save your citations and organize them into projects and folders.
📇 What types of citations can you create with BibGuru?

You can create both in-text citations and bibliographic references with BibGuru.
🖼 Does BibGuru have a browser extension?

Yes. BibGuru has a browser extension for Google Chrome and MS Edge. The extension automatically generates citations for online sources.
🗺 How do you use BibGuru?

1) From the BibGuru homepage, click the "get started" button. You'll be taken to the app. Once there, select the citation style that you want to use from the style drop-down menu located just above the document's white space, on the left.

2) Once you've selected your style, you can begin adding sources to your bibliography. Use the search bar at the top of the app to search for books, journal articles, and websites.
🏎 Does BibGuru have ads?

No. BibGuru does not have ads and you do not need to watch a video to add citations to your bibliography.