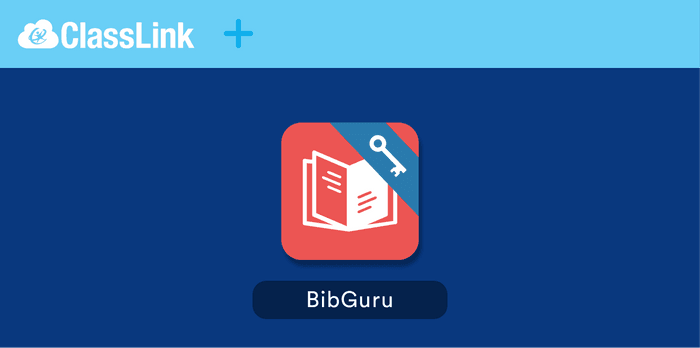 Educators can now add BibGuru to their ClassLink SSO LaunchPads. This integration eliminates the need for students to sign in to two different applications. BibGuru also supports sign in via Clever SSO, Gmail, and Facebook.
Add BibGuru to your ClassLink LaunchPad
Teachers and school administrators can add BibGuru directly to their ClassLink LaunchPads, so that students can login, create a BibGuru account, and immediately begin generating citations and bibliographies.
This integration allows educators to more seamlessly utilize BibGuru in the classroom and to encourage responsible citation practices.
About BibGuru
BibGuru is a free (and ad-free) citation tool for students. With Bibguru, you can:
Search for website, article, and book sources and add them to a bibliography with one click.
Add citations for more than 60 other source types.
Create bibliographies in APA, MLA, and thousands of other citation styles.
Export your citations as a Word file or copy them into Google Docs.
Sign-up to save your citations and organize them into projects and folders.
We make BibGuru freely available to all K-12 students because we are committed to advancing academic integrity and information literacy through products that are both accessible and user-friendly.
Educators can also find useful how-to articles, citation tips, and instructional materials on the BibGuru blog and Educator Hub.