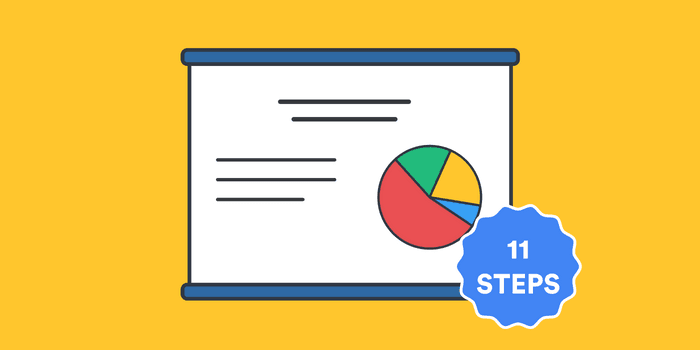 The best class presentations combine strong content and visuals with an engaging presentation style. This post offers 11 steps for creating memorable and high-performing class presentations.
1. Review assignment guidelines
Before you can strategize about how to start a class presentation, you need to be certain that you understand the assignment details. Consult materials that your instructor provided, like rubrics, to determine what your presentation needs to cover and what form it should take.
For instance, are you presenting individually or as part of a group? How long should the presentation be? Are you required to have visuals? Knowing these details will help you to plan a successful class presentation.
2. Make a presentation plan
Once you've reviewed the specific assignment details, it's time to make a presentation plan. You can start by making an outline of your talking points. Outlines for class presentations will look similar to those for papers, with sections and subsections that work through your main ideas. You'll want to be precise about what points are essential to communicate to your audience. Also, take some time to decide on a completion timeline to ensure that you're ready on presentation day. Remember to build in time for practice!
3. Choose your visuals
At this point, you'll also want to determine what kind of visual aid(s) you want to use: a handout or a digital presentation, or both? Keep in mind the assignment requirements, but also the audience and the presentation format. For example, are you presenting to a large audience? If so, a handout might not be efficient. Are you presenting in-person or online? If you're preparing an online presentation, a PowerPoint or Google slides presentation will help your audience follow along.
4. Fill out your outline and keep it simple
Now that you've developed a plan for completing your class presentation, you can begin to build out the actual content. If you've created a basic outline, fill it in with some substance. Remember to keep it simple. At around 10-15 minutes, the average in-class presentation can only effectively communicate around three main points. Avoid long quotes or monologues. Your audience may find it difficult to follow longer textual components.
5. Design your visuals with minimal text
Along similar lines, don't simply plop your outline or textual notes into your visuals. Visual aids should be just that: aids that allow your audience to better visualize the main points of your presentation. Large blocks of text on a PowerPoint can be hard to see, so work on creating a digital aid that is mostly comprised on images. When text is appropriate, use bullet points and active words that your audience can remember.
6. Allow time for revisions
Once you've compiled your notes and created your visuals, take some time away from the project. You'll return to your work with fresh eyes. Then, allow time for revision: be sure to proofread your notes, slides, and/or handouts and make sure your visuals are clear. Check to see if any images that you're using appear pixelated on a larger screen and make sure your text is readable from a distance.
7. Check your citations
Many in class presentations will require citations, especially if they are accompanying a paper or another class research project. You can use BibGuru's citation generator to create your citations and copy them to your slides or handout. Consult your assignment guidelines, or ask your instructor, to find out what citation style is required.
8. Practice...and practice again
Give yourself time to practice your presentation in front of an audience before the big day. Familiarize them with the assignment guidelines, as needed, and ask them to time you. You'll need to know if your presentation meets the time requirements. After the first run though, consider these questions:
Is your presentation too long or too short?
Are you hitting the main points in a logical sequence that your audience can follow?
Are your visuals clear?
Is your delivery fluid or are you pausing too often to look at your notes?
Are you making eye contact with your audience?
Use your answers to these questions to determine what, if at all, you need to change and then schedule another practice. You should practice your presentation as many times as you need to in order to achieve a fluid delivery.
9. Prepare for technical difficulties
Since most class presentations will include a digital element, be prepared to troubleshoot if there are technical difficulties on presentation day. Always have a back-up plan and be sure to save your visuals in multiple places. Keep a copy of your notes and slides in your email, on a thumb drive, and/or on the cloud. Practice enough so that, in the event that you can't get your visual aid to work, you can still deliver your presentation.
10. Take the stage with confidence
If you've followed your plan, practiced thoroughly, and prepared for possible technical difficulties, you should be ready to take the stage with confidence. Nervousness is absolutely natural, but try your best to relax and breathe. A few shoulder rolls and deep breaths right before the presentation can go a long way to making you feel more focused and centered.
11. Connect with your audience
From the first moment of your presentation, you'll want to establish a strong connection with your audience. Smile, make eye contact, and modulate your voice appropriately. Remember, people exhibit all kinds of facial expressions when they are listening or concentrating, so try not to pay too much attention to individual faces.
Also, although your instructor will be the one grading you, don't simply present to them. Include the entire class in your gaze. Finally, be careful about pace. If you have a tendency to speed up your speech when you're nervous, make a conscious effort to slow down.
The bottom line
Following the tips above will enable you to confidently deliver a class presentation to your instructor and classmates, or to any audience. With solid preparation and ample practice, your next class presentation will be a memorable success.
Frequently Asked Questions about class presentations
📍 How do you begin a presentation?

The most successful presentations begin with a hook. This could be a short, yet compelling story, an eye-catching visual with brief analysis, or an inspiring quote or statistic. No matter how you begin, ensure that you can fluidly transition to the main substance of your presentation in a way that your audience can easily follow.
✅ How can I make my presentation interesting?

Regardless of the subject of your presentation, you can make it interesting for your audience by engaging them through consistent eye contact, a relaxed and confident delivery style, and interactivity. For instance, to keep your audience engaged, you might try including questions or brief activities in your presentation.
📢 What do you say at the end of a presentation?

Wrap up your presentation by summarizing your key points. You can also end with a provocative question or thought. You should also thank your audience for listening.
⭐️ What are the signs of a good presentation?

Good presentations are well-organized, time-sensitive, clear, and delivered with confidence.
🌧 What must be avoided in any presentation?

The most common presentation mistakes include: not engaging your audience, using visuals that are overloaded with text, and not practicing enough.